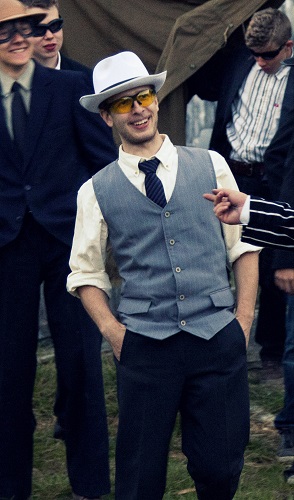 Civilian village mayor
Hello!
I'm Yeti Kakko (yeti.kakko@gmail.com) and like year ago I will be playing as village mayor. Even though I have been mainly organizing games recently I'm still an active airsoft enthusiast with game experience of 10 years or so. I have played and organized all kinds of games from WWII to TSTOS Parola. When not playing airsoft one can find me from Tampere where I study and spend my time with music, theatre and various games.
During the game I will be known as Petri "Sipi" Juhala the mayor of Tiirinkylä the Ilveskallio's major settlement.
"After the late mayor of the village had departed when war entered Ilveskallio area, Sipi immediately ran for the position. Before his candidacy Sipi hadn't been involved in local politics but surprisingly he entered the office with majority of votes. Press has speculated that villagers were in need of a strong new leader in these dark times of conflict. Accordin to himself Sipi represents the Centre Party of Finland but most scholars have said that his actions are similar to policies of populist-agrarian Finnish Rural Party.
Sipi has been accused of nepotism, corruption and secrecy but the mayor has denied any involvement in this kind of activity and also stated that media has made up all accusations to oppose the greater good."
There has been lots of interest in civilian side but dig up the rest of your friends and get them on the field to Make Tiirinkylä Great Again! After this, join civilian Facebook group: https://s.ehasa.org/tstos17sivfb